Why Choose Us
Decades Of Experience
Professional Lighting and Audio
Full Service Film Production Capabilities
Multiple Fulfillment Options
Highest Quality Work Available
Ever wish you didn't have to worry about renting equipment, setting it up, or finding good help to run the equipment? Good news my friend… On It Video is Charleston's premier video production agency and now you can hire us to work for you! This is PERFECT for outside agencies looking to film in Charleston, S.C.
ON IT VIDEO GRIP VAN & VIDEO RENTAL IN CHARLESTON SC
This is your chance to hire the ultimate production assistant. We provide you with decades of experience and high quality equipment at a fraction of the price. On It Video Production in Charleston, SC is a full service camera, audio, grip and lighting co. for Film – TV – Interviews – B-roll and Documentaries.  Specializing in small sets without compromise to sound – staging – lighting – safety – and backup resources.  If you are scouting for video in Charleston SC please give us a call for more details and venues in the area.
What Client's Say:
WOW – HIGHLY RECOMMENDED!
I've hired other video production services in the past, but recently I needed some commercials produced for my clients. Keith at On It Video is a visionary, and I can not say enough about their services.
HIRE DECADES OF EXPERIENCE AND QUALITY EQUIPMENT …
We deliver high definition film to have the biggest impact on your targeted audience!
With over a decade of experience you can rest assured quality is our priority by providing experienced help and equipment your life just got a lot easier!
HD VIDEO PRODUCTION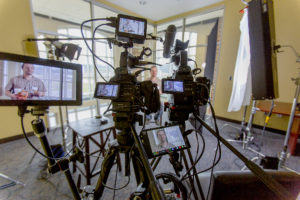 Need a Sound Engineer?
Hire us!
On It Video is Charleston's premier, full-service video production company with a passion for creating the highest quality content for our clients and an impressive finished product you can be proud of. With decades of experience, On It Video brings unmatched professionalism to the commercial and artistic markets to produce video that ensures your business, project or product is seen in the best possible light.